I have created this page of recommendations to help you navigate through the world of work! Here you'll find an easy to use list of products, services, and companies that I recommend  to help you with discovering your career path, finding your perfect job,  developing your job skills, and creating work-life balance.
---
Disclosure: This page contains affiliate links, meaning ReRouting Inc. gets a commission if you decide to make a purchase through links posted on this site, at no cost to you. Please read this disclosure for more info.
---
Career

CareerFitter is a hybrid personality career assessment test. This test is designed to provide you with insight into career options based on your work personality. If you are trying to figure out what to do with your life, this is a great place to start learning more about yourself and the types of jobs you'll be happy working in. This career test is not only for students and new grads, but also those in the workforce looking for ideas to make their next career move! CareerFitter offers a basic free career report and a premium 10-page career report for only $19.95!
Job Searching
FlexJobs is the "leading resource for job seekers looking for legitimate, professional remote and flexible jobs". The website offers job advertisements for jobs that provide some sort of flexibility – whether its a remote, telecommuting, part-time, freelance, or flextime job. FlexJobs offers a subscription service that includes access to legitimate flexible jobs, free skills testing to market your skills to employers, your profile that enables employers to find you, email alerts, and a personalized portfolio.
Jobscan is helping job seekers worldwide by giving them access to test their resumes against a job description in an applicant tracking system (ATS) to ensure optimization before they submit their job applications into an employer's website. Their platform is allowing candidates to be more successful in beating ATSs and booking more interviews. Jobscan also offers a LinkedIn optimization tool to scan your LinkedIn profile and obtain personalized suggestions for improvement.
Learning and Development
LinkedIn Learning is an excellent platform where you can access 16,000+ expert-led courses on a variety of topics including business, tech, and creative skills. LinkedIn's online learning platform is a subscription service where you pay a monthly amount and receive access to their courses. It is not a pay per course program.
Learn in-demand skills like Project Management, Adobe, DevOps, Certified Scrum Master Prep, Statistics, QuickBooks, and so much more! LinkedIn Learning also let's you try the subscription service first with a free trial.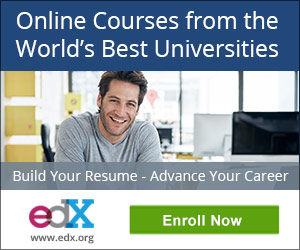 edX is an online learning destination offering high-quality courses from the world's best universities and institutions to learners around the world. edX offers over 2,800 courses across various disciplines such as humanities, law, computer science, biology and life science, business and management, etc. the list really does go on! Schools and partners include Harvard, Berkeley, University of Toronto, McGill, and many more top educational institutions around the world. Build specialized skills to help advance your career with the programs found on edX. It's easy to take courses from top universities while on a budget with edX!
Udemy is a leading global learning platform that connects students and instructors in an online environment. With pre-recorded online training, learners have the opportunity to take courses on demand – in various languages. Users can access the courses online anywhere at any time. With over 130,000 courses available and taught by highly skilled instructors, Udemy is a trusted learning platform for Fortune 100 companies looking to upskill their employees. On Udemy you can find courses on : design, web development, marketing, IT and software, personal development, business, photography, music, etc.
Student and New Grad

Next Step Connections (NSC)   offers real world learning programs for students and new graduates. Program capabilities include global internships, work experience, study tours, short term programs, virtual internship projects and student employability programs. NSC is best-suited for students and young professionals looking to travel the world to build their skills in real work environments. When submitting your application, enter promo code : REROUTING to receive a$50 discount