I have created this page of recommendations to help you navigate through the world of work! Here you'll find an easy to use list of products, services, and companies that I recommend  to help you with discovering your career path, finding your perfect job,  developing your job skills, and creating work-life balance.
---
Disclosure: This page contains affiliate links, meaning ReRouting Inc. gets a commission if you decide to make a purchase through links posted on this site, at no cost to you. Please read this disclosure for more info.
---
Career Planning

CareerFitter is a hybrid personality career assessment test. This test is designed to provide you with insight into career options based on your work personality. If you are trying to figure out what to do with your life, this is a great place to start learning more about yourself and the types of jobs you'll be happy working in. This career test is not only for students and new grads, but also those in the workforce looking for ideas to make their next career move! CareerFitter offers a basic free career report and a premium 10-page career report for only $19.95!
Career Key
can be used by high school, college and university students, working adults and professionals to help them select education pathways and discover career options. The Career Key assessment matches an individual's personality and interests to best-fit careers and education programs. Career Key has 2 versions: The Student version is tailored for students grade 8 through university and college. The Transitions version is geared towards adults considering furthering their education or planning to make a career change. The assessment cost is a one time fee of $19.95.
Learning and Development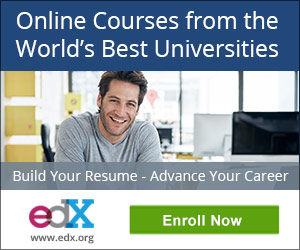 edX is an online learning destination offering high-quality courses from the world's best universities and institutions to learners around the world. edX offers over 2,800 courses across various disciplines such as humanities, law, computer science, biology and life science, business and management, etc. the list really does go on! Schools and partners include Harvard, Berkeley, University of Toronto, McGill, and many more top educational institutions around the world. Build specialized skills to help advance your career with the programs found on edX. It's easy to take courses from top universities while on a budget with edX!
Udemy is a leading global learning platform that connects students and instructors in an online environment. With pre-recorded online training, learners have the opportunity to take courses on demand – in various languages. Users can access the courses online anywhere at any time. With over 130,000 courses available and taught by highly skilled instructors, Udemy is a trusted learning platform for Fortune 100 companies looking to upskill their employees. On Udemy you can find courses on : design, web development, marketing, IT and software, personal development, business, photography, music, etc.